Senior Consultant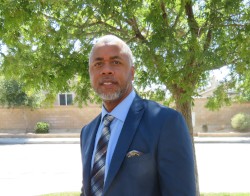 Yusef Andre Wiley, was born October 24, 1969 and raised in South Los Angeles, California. Both of his parents, Betty and Sampson Wiley originally from the state of Texas. Andre is the youngest of five children. By the age of 13, he started associating with gang members and getting into trouble around the neighborhood. After serving a juvenile sentence, Mr. Wiley continued his gang involvement with other known gang members earning a reputation as a gang banger in the areas of South LA (Compton, Watts and Willowbrook) which eventually landed him in the correctional system in California at the age of 21. 
Mr. Wiley, also a Life Coach has now been working for many years to end gang and youth violence through his development and writing intervention and rehabilitation programs. His work as an adviser and mentor has been phenomenal. He is the creator and founder of the Timelist Group (a pre-release/post-release) rehabilitation program which also provides housing for parolees Los Angeles California and continues to provide training's at several CDCR facilities.  He also has assisted several reentry start-up organizations in the SF Bay Area, a former Commissioner on the Human Relations Commission of the City of Union City, Alameda County Reentry Panels and Advisory Boards. He is an author and has gained an AA degree in Small Business Management as well as Paralegal Degree and is a certified trainer and coach of the John Maxwell Team.  Mr. Wiley is currently the Founder & CEO of the Timelist Group, Inc, Senior Consultant at YW Consultants and proud father of six children, three biological and supporter of Autism Awareness and Research.
When you dread attending a staff workshop for fear of boredom and keeping your eyes alert, here's your dynamic duo that add energy to the room, your cup of Joe. Keeping you engaged and ready to learn more. Book us for your next staff training.